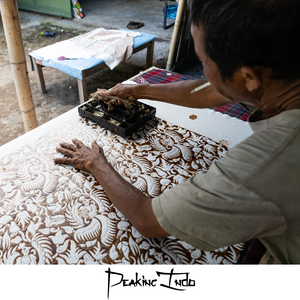 From thought to thing
The initial thoughts of what would become Peaking Indo were seeded and buried deep into the mind of Devin during a surf trip at dreamy Lakey Peak. It's an ever evolving idea stemmed from the beauty of a blessed archipelago that has spread its way to family members and close friends as Dev would bring back things from the local Indonesian markets after each trip.  In 2020, during the scamdemic, we had an opportunity to relocate from San Diego to Bali and jumped right on it without hesitation.  We made the move and got right to sniffing for manufacturing like a coupl'a dogs making their way to the satay stand; this process was a struggle and still isn't all sweet a-frames and glassy conditions.  We've searched high and low for quality textiles that could be turned into some one-of-a-kind garments and regularly stumble upon mind blowingly beautiful traditional designs adorning what are known as sarong's; basically a 1.5 yard cotton tapestry.  They are then handed over to our seamstress who stitches the garments to life. All products are sourced from Indonesia, including the recycled lycra we use on the gusset of some shorts AND the recycled microfiber that constructs the boardies.  We are in the process of bringing a custom traditional batik design that is impregnated with Peaking Indo stamps (batik is a method of stamping cloth with a copper welded stamp that is coated in wax, the stamped cloth is painted and sits for a day, then boiled in a vat powered by wood fire that separates the wax and reveals the canvas in the original color before the dying process.  These spaces are then either left alone or hand painted a different color. We then assign them to their destiny where they become available to eager patrons in person and on our virtual market. Small batch, hand made garments feel different. Thats because they're made for you. We are able to do personalized sizing over an array of customized items; button down short sleeve/long sleeve shirts, kimonos, head bands, chino pants...you name it, just send us your dimensions and give us a few weeks to make it happen.
We deserve wearable art. Thanks for keeping this vision rolling.  
Peaking Indo
---